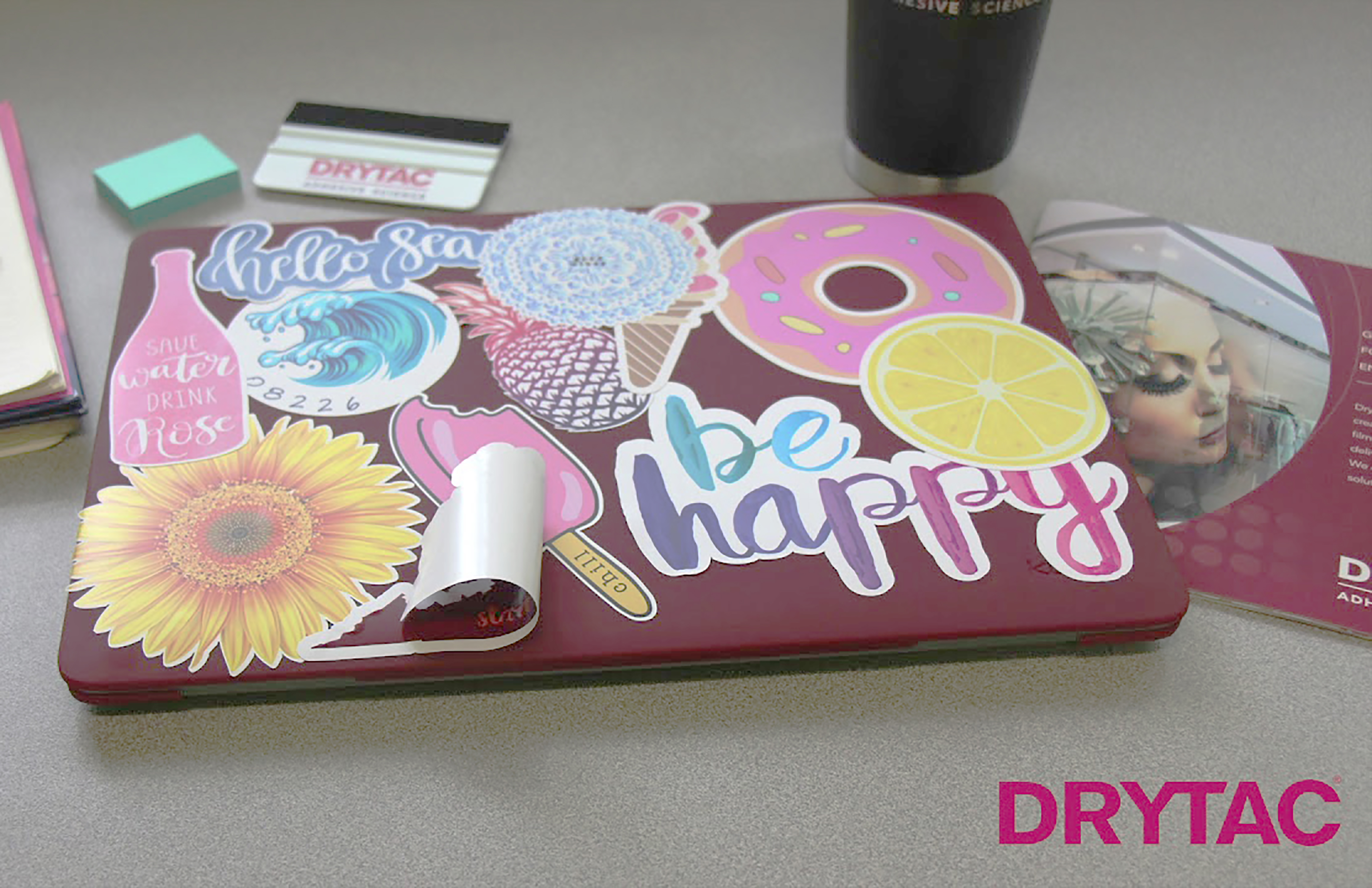 February 4, 2019
GUEST POST: Drytac Stickers & Decals
Stickers and decals: Stay on message without the mess!
– Dave Daniels, Regional Sales Manager – USA, Drytac
We've all seen or placed stickers on things like laptop computers, refrigerators or the ubiquitous car bumper. Vibrant, punchy sticker art on items like skateboards – often called slaps – are everywhere. Stickers and decals are a great way to convey a message, to show loyalty to a brand or band, to promote your own business and much more.
But what happens when you want to change the message? When a brand identity has a refresh, or when you have a new campaign to promote? Unfortunately, most stickers and decals are difficult – or nearly impossible – to remove. They leave a sticky residue that attracts dirt and using cleaning chemicals can damage the surface further.
Luckily, some folks have paid attention to one of Drytac's amazing products that has great adhesion yet is permanently removable: ReTac. ReTac Smooth 75/150 is a polymeric vinyl film available in thicknesses of 3.2 mil and 6 mil (75 and 150 microns), compatible with latex, eco-solvent and UV printing technologies. Using ReTac you can apply stickers to any compatible surface safe in the knowledge that when they wear out or the message becomes outdated, they can be removed easily and cleanly, even years after initial installation.
Another key feature of ReTac's innovative adhesive is that it makes ReTac graphics repositionable too, so if you've applied your sticker in the wrong place or slightly askew you can move and reinstall it without losing adhesion now or later; despite these incredible qualities ReTac maintains its adhesive strength over time.
Importantly, ReTac Smooth 75/150 is easily cut to the shape you want with vinyl cutting systems – making it perfect for producing stickers and decals in an infinite range of designs. It's also wipe-clean, so ideal for keeping those refrigerators and laptops hygienic, and car bumpers and skateboards on-message.
With an excellent white point for vibrant results and roll lengths of 54″ x 150′ and 61″ x 150′ available, ReTac Smooth 75/150 is also used worldwide for much larger applications, from window decals to large wall displays – like Wembley Stadium! Just like small but eye-catching stickers, these graphics are repositionable, removable and easily cleaned, meaning you can let ReTac do the talking when you want to send a message and remove it when you don't.